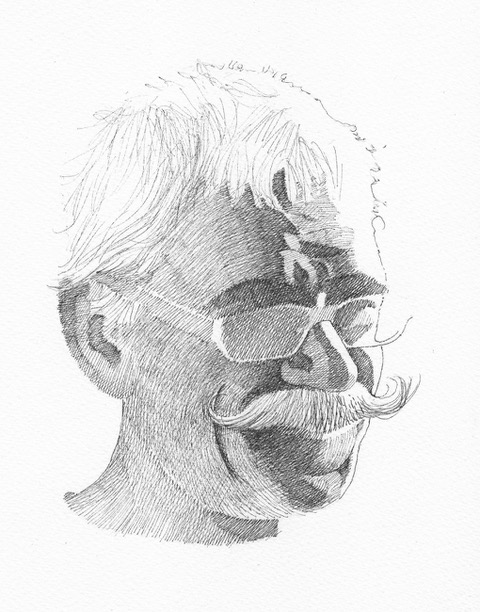 A little about the Artist
Common sense, practicality and interesting opportunities such as working on projects like Expo, the Black Diamond Cheese Co., Ford, American Airlines and a host of similar clients, working with talented colleagues in air conditioned offices and of course a regular paycheque were more appealing than the hit and miss bohemian life in a rented studio.
During this time Joel made inroads onto the fine art world by finding a gallery to exhibit his work.
More by accident than design Joel discovered an aptitude for teaching and combined a freelance career in architectural rendering for the next thirty years but never losing sight of his fine art. Making time to produce several murals and works for solo and group exhibitions.
Fine art is a fickle mistress with multiple rewards though not necessarily financial ones. Joel has reached that time in life, euphemistically known as retirement, now having the wherewithal to devote his energies entirely to the world of being an artist.
Experience and skill combined with a nice sense of pictorial humour Joel does today what he'd like to have done in 1965 upon immigrating to Canada: Go into the studio every day and work his heart out.
Fabrice Wexley
Photos by Akos Major.
Pellentesque vel mattis turpis. Etiam tristique posuere sapien at mattis. Praesent feugiat pulvinar justo id varius. Fusce nisl elit, dictum eget condimentum eu, elementum sed ante. Vestibulum ante ipsum primis in faucibus orci luctus et ultrices posuere cubilia. Curae; proin nec scelerisque felis. Proin hendrerit, massa eu scelerisque tempor.
In hac habitasse platea dictumst. Fusce eu erat tincidunt, dapibus sem scelerisque, dapibus nibh. Proin fringilla, est non fermentum cursus, elit nibh hendrerit velit, vitae congue neque augue sed odio. Aliquam fermentum, ligula iaculis tristique rhoncus, turpis nisi dignissim lorem, a dictum dolor sapien ac massa.